MAKE AND BREAK by Michael Frayn
Venue: Theatre Royal Haymarket 1980
Directed by Michael Blakemore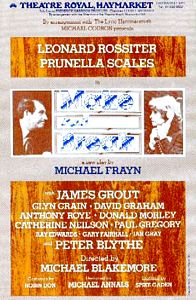 Cast
Leonard Rossiter
Prunella Scales
James Grout
Peter Blythe
Glyn Grain
David Graham
Anthony Roye
Donald Morley
Catherine Neilson
Paul Gregory
Ray Edwards
Gary Fairhall
Ian Gray
The story of Garrard (Rossiter), the managing director of a company that manufactured moving walls and doors. A compulsive salesman, obsessed with his work and efficiency, he has little regard for anything or anyone else, including his family.

Leonard played the role of Garrard.

Leonard's Role Remembered:
"...But Garrard, for all his hyperactivity, is dead - spiritually dead; and it was this emptiness which Leonard emphasised, initially so wittily, and finally so movingly, just as much as all the frenetic obsession with efficiency." - Robert Tanitch.

"He created a character who could be still and watchful, but whose whole personality was charged with the ceaseless and obsessive working of the mind within...He portrayed obsession so brilliantly because obsession comes from underground, and he knew how to work underground." - Michael Frayn, author.

"...He rehearsed perfectly and was one of the most exciting actors to play with I've ever known. He exuded power and a sort of sexual energy and I continued to be rather frightened of him offstage." - Prunella Scales, co-star (pictured).

"Len was a mercurial actor - the reactions were swift and accurate...It is no wonder that squash was a game he could play with the best and play to win." - James Grout.

Critical Review:
"Shedding his familiar manic mannerisms he gives a brilliant study of a man in the grip of an idee fixe." - Michael Billington, The Guardian.